The Canada CHUM song chart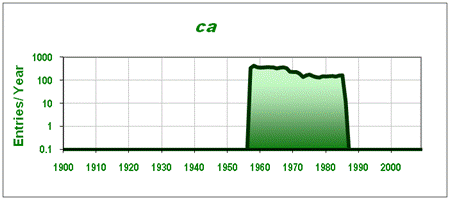 Song chart Canada CHUM
CHUM are radio station in Toronto, they produced a weekly chart from 1957 until 1986 and listed the charts at //www.1050chum.com/.
We would rather use the "Records, Promotion, Music" (RPM) chart, which were national rather than this local one. However those charts are not available in a usable form (raster scans of the RPM weekly charts are at //www.collectionscanada.gc.ca/rpm/index- e.html.
Attributes
The attributes we use from this data are:
artist
There are a wide range of ways to assign scores to artists in order to work out which artists are most significant. Here is one listing, of the top five artists of each decade within the CHUM chart. This has been calculated using a score that combines the position and the number of weeks in the charts.
If we want to compare artists across the years we need to remove the systematic bias that comes from the different chart sizes for different eras. We can do that by first ording all the songs by success within a given year and then using this order to define a score (for example assigning 1.0 to the number 1 song, 0.5 to the number 2 and so on).
name
A number of song titles have been hits for more than one artist. Here are the twenty titles that have spent the most weeks in the CHUM charts.
position
The peak position that songs reached in the CHUM charts.
date
The month in which a song first entered the CHUM chart.
weeks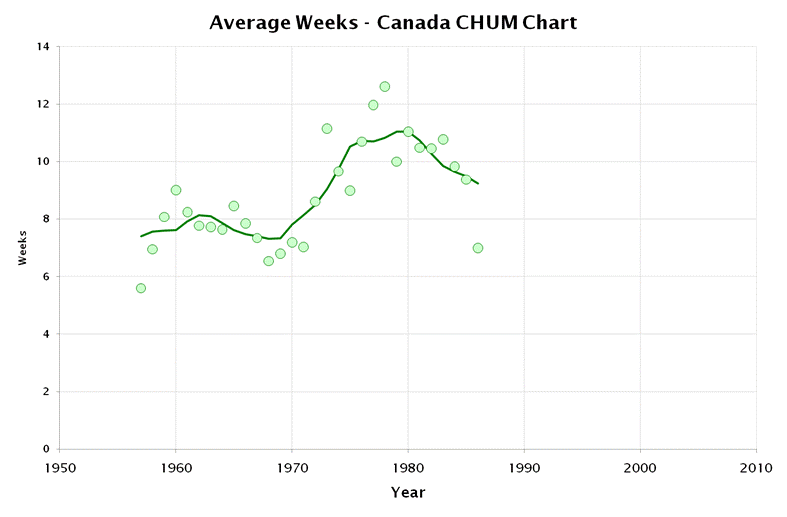 The number of weeks that the average song spends in the CHUM chart has changed quite dramatically over the years. We have no good idea why this should be.
---
The comments here are from the the MusicID impact site site. This version is not able to accept comments yet