Artist Profiles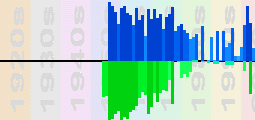 Each artist page includes a "profile" picture that provides a summary of success in the charts. The profiles show success by year for album and song charts, the albums are shown in blue above the line and the songs in green below the line. In the example above you can see that this act first had hits in the mid fifties, the darker green shows that he was one of the most successful singles acts of those years. His hits dried up in the late seventies, with just a few hit albums in the ninties and then a sudden album led success in the new millenium.
For those interested in the details the height of each bar is related to the logorithm of the artist's total score for the year. In other words if a score of 1.0 is one unit high then 10.0 would be two units and 100.0 three, so high bars represent a really significant success. The colour of the bar relates to the artist's position in the year, the top 5% of artists in a given year get the darkest colour, the other breaks are at 15% and 50%. Any year where there are few charts will therefore have smaller bars in the darker colours. Album charts only start in 1950 so artists with success before then will have little above the line.
Here are the artist profiles for the 50 artists with the most success in the 141 song charts.
The comments here are from the the MusicID impact site site. This version is not able to accept comments yet