Album artist 350 - Annie Lennox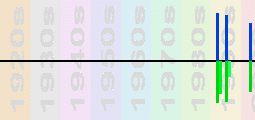 This page lists the album chart runs of Annie Lennox. A list of songs by Annie Lennox can be found here. The albums are listed with the most widely successful first.
Sang in The Catch, The Tourists and with most success in The Eurythmics.
| | | | | |
| --- | --- | --- | --- | --- |
| # | Artist | Album Title | Year | Chart Entries |
| 1 | Annie Lennox | Diva | 1992 | UK 1 - Apr 1992 (80 weeks), Brit best album 1993, US 2 X Platinum (certified by RIAA in Aug 1996), UK 4 x Platinum (certified by BPI in Jan 1995), Grammy in 1992 (Nominated), Germany Gold (certified by BMieV in 1992), Switzerland 5 - Apr 1992 (22 weeks), Sweden 5 - Apr 1992 (26 weeks), ODK Germany 6 - Apr 1992 (37 weeks) (6 weeks in top 10), Germany 6 - May 1992 (10 weeks), Austria 8 - May 1992 (4 months), Italy 9 of 1992, Norway 11 - May 1992 (3 weeks), France (InfoDisc) 15 of 1982 (peak 21, 68 weeks), Billboard 23 - May 1992 (72 weeks), US CashBox 42 of 1992, UK Radio2 83, WTMD 265, WXPN 274 (1992), Acclaimed 2610 (1992), RYM 84 of 1992 |
| 2 | Annie Lennox | Medusa | 1995 | UK 1 - Mar 1995 (49 weeks), Canada 1 for 2 weeks - 1995, US 2 X Platinum (certified by RIAA in Jun 1998), UK 2 x Platinum (certified by BPI in Oct 1995), Europe 2 x Platinum (certified by IFIP in 1997), ODK Germany 4 - Mar 1995 (25 weeks) (6 weeks in top 10), Germany 4 - Mar 1995 (12 weeks), Austria 4 - Apr 1995 (4 months), Norway 4 - Mar 1995 (20 weeks), Sweden 4 - Mar 1995 (25 weeks), France Gold (certified by SNEP Mar 1995), Germany Gold (certified by BMieV in 1995), Switzerland 6 - Mar 1995 (16 weeks), Billboard 11 - Apr 1995 (60 weeks), Italy 25 of 1995, US CashBox 46 of 1995, France (InfoDisc) 57 of 1995 (peak 5, 17 weeks), US BB 59 of 1995, WXPN 648 (1995), WTMD 808 |
| 3 | Annie Lennox | Bare | 2003 | UK 3 - Jun 2003 (14 weeks), Billboard 4 - Jun 2003 (20 weeks) (3 weeks in top 10), US Gold (certified by RIAA in Jul 2003), UK Gold (certified by BPI in Oct 2003), Canada Gold (certified by CRIA in Jun 2004), ODK Germany 5 - Jun 2003 (12 weeks) (3 weeks in top 10), Germany 5 - Jun 2003 (3 weeks), Switzerland 7 - Jun 2003 (8 weeks), Norway 16 - Jun 2003 (3 weeks), Austria 20 - Jun 2003 (1 month), Sweden 29 - Jun 2003 (2 weeks), US BB 50 of 2003, Italy 72 of 2003, the MusicID revenue site album 73 of 2003 |
| 4 | Annie Lennox | The Annie Lennox Collection | 2009 | UK 2 - Mar 2009 (25 weeks), Norway 4 - May 2009 (7 weeks), ODK Germany 15 - Mar 2009 (8 weeks), Germany 15 - Mar 2009 (1 week), Switzerland 23 - Mar 2009 (6 weeks), Austria 27 - Mar 2009 (1 month), Billboard 34 - Mar 2009 (6 weeks) |
| 5 | Annie Lennox | Songs Of Mass Destruction | 2007 | Switzerland 6 - Oct 2007 (5 weeks), UK 7 - Oct 2007 (4 weeks), Billboard 9 - Oct 2007 (10 weeks) (1 week in top 10), ODK Germany 15 - Oct 2007 (5 weeks), Germany 15 - Oct 2007 (2 weeks), Sweden 26 - Oct 2007 (2 weeks), Italy 94 of 2007, US BB 156 of 2007 |
| 6 | Annie Lennox | A Christmas Cornucopia | 2010 | UK 16 - Nov 2010 (9 weeks), Billboard 35 - Dec 2010 (6 weeks), ODK Germany 37 - Nov 2010 (7 weeks) |
| 7 | Annie Lennox | Nostalgia | 2014 | Billboard 10 - Nov 2014 (10 weeks) (1 week in top 10), ODK Germany 15 - Nov 2014 (3 weeks) |
The comments here are from the the MusicID impact site site. This version is not able to accept comments yet