The Holland song chart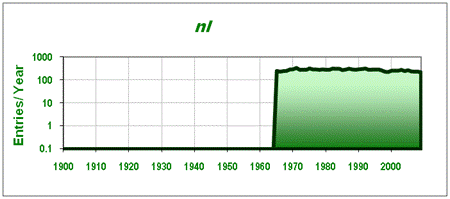 Song chart Holland
The weekly top 40 in Holland (This data originally came from //www.radio538.nl/web/show/id=44685). The web site used to list the weekly Dutch charts starting in 1965, many of the entries were truncated and have had to be expanded by other sources.
Attributes
This chart has the following attributes:
artist
There are a wide range of ways to assign scores to artists in order to work out which artists are most significant. By assigning a score to each song that combines its peak position with the number of weeks in the Dutch chart we can calculate the "top artists" for each decade:
Another approach is to assign each song a score based on one divided by the year position (so number 1 is 1.0, 2 is a half and so on). If we then total each artist's songs we get a rough idea of how significant they are.
name
A number of song titles have been hits for more than one artist. Here are the twenty titles that have spent the most weeks in the Dutch charts.
position
The peak position that each song reached in the top 40.
date
The month in which a song first entered the Dutch chart.
weeks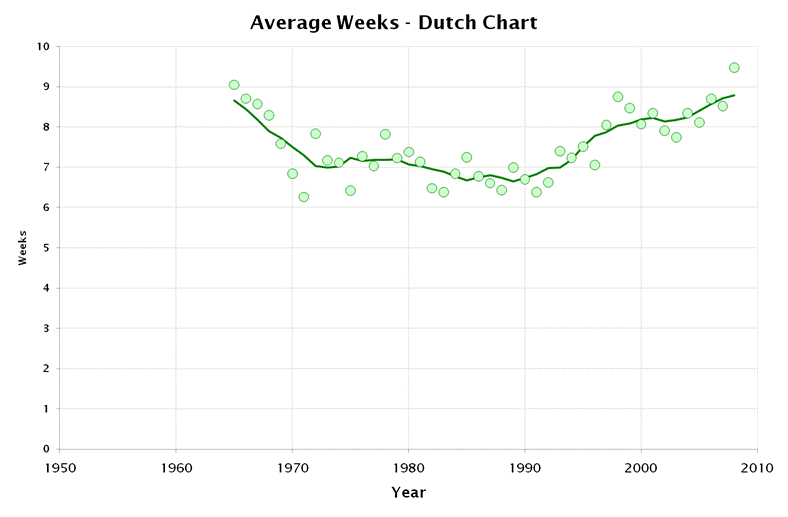 The number of weeks that the average song spends in the Dutch charts has remained fairly steady for the whole duration of the charts.
---
The comments here are from the the MusicID impact site site. This version is not able to accept comments yet