Song title 374 - Marina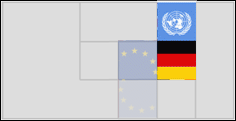 This page lists the chart runs for songs called "Marina" in order of success. This list combines cover versions and distinct songs that happen to share the same title.
If, alternately, you are looking for songs which have the word "Marina" somewhere in the title a better alternative would be to look up the word in the site index for m.
| | | | | |
| --- | --- | --- | --- | --- |
| # | Artist | Song Title | Year | Chart Entries |
| 1 | Rocco Granata | Marina | 1960 | Norway 1 - Jan 1960 (27 weeks), Belgium 1 - May 1989 (14 weeks), Flanders 1 - Jul 1959 (10 months), Italy 1 for 4 weeks - Apr 1960, Germany 1 - Jan 1960 (9 months), Europarade 1 for 13 weeks - Jan 1960, Germany 1 for 9 weeks - Dec 1959, Holland 2 - Jun 1989 (12 weeks), Germany 6 of the 1960s (peak 1 30 weeks), Canada 8 - Nov 1959 (11 weeks), Italy 10 of 1960, Europe 15 of the 1950s (1959), US Billboard 31 - Nov 1959 (11 weeks), Brazil 88 of 1960, RYM 118 of 1959, Global 33 (5 M sold) - 1959 |
| 2 | Willy Alberti | Marina | 1959 | Norway 7 - Jan 1960 (2 weeks), US Billboard 42 - Nov 1959 (8 weeks), Europe 43 of the 1950s (1959) |
| 3 | Dick Farney | Marina | 1947 | Brazil 4 of 1947 |
| 4 | Cauby Peixoto | Marina | 1960 | Brazil 7 of 1960 |
| 5 | Dorival Caymmi | Marina | 1947 | Brazil 9 of 1947 |
| 6 | Leny Eversong | Marina | 1960 | Brazil 85 of 1960 |
| 7 | Marino Marini & his Quartet | Marina | 1960 | Italy 12 of 1960 |
| 8 | Piero Giorgetti | Marina | 1960 | Italy 78 of 1960 |
| 9 | Jacky Noguez & his Orchestra | Marina | 1959 | US Billboard 87 - Nov 1959 (3 weeks) |
| 10 | Rocco & the Carnations | Marina | 1989 | Italy 14 of 1989 |
| 11 | Will Brandes | Marina | unknown | Germany 6 of the 1960s (peak 1 30 weeks) |
The comments here are from the the MusicID impact site site. This version is not able to accept comments yet