Song title 914 - Lambada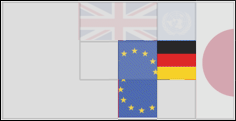 This page lists the chart runs for songs called "Lambada" in order of success. This list combines cover versions and distinct songs that happen to share the same title.
If, alternately, you are looking for songs which have the word "Lambada" somewhere in the title a better alternative would be to look up the word in the site index for l.
| | | | | |
| --- | --- | --- | --- | --- |
| # | Artist | Song Title | Year | Chart Entries |
| 1 | Kaoma | Lambada | 1989 | Holland 1 - Aug 1989 (21 weeks), Finland 1 for 2 weeks - Oct 1989, Austria 1 - Oct 1989 (7 months), Switzerland 1 - Aug 1989 (29 weeks), Norway 1 - Oct 1989 (22 weeks), Poland 1 - Sep 1989 (12 weeks), Belgium 1 - Aug 1989 (16 weeks), Italy 1 of 1989, Italy 1 for 19 weeks - Sep 1989, Germany 1 - Jan 1990 (6 months), ODK Germany 1 - Sep 1989 (34 weeks) (10 weeks at number 1) (18 weeks in top 10), Europe 1 for 15 weeks - Sep 1989, Germany 1 for 10 weeks - Sep 1989, Germany 2 x Platinum (certified by BMieV in 1989), Japan (Tokyo) 2 - Nov 1989 (19 weeks), Japan (Osaku) 3 of 1990 (peak 1 31 weeks), UK 4 - Oct 1989 (19 weeks), Switzerland 4 of 1989, UK Gold (certified by BPI in Feb 1990), Sweden 5 - Sep 1989 (7 weeks), Brazil 8 of 1990, Australia 14 of 1990, Germany 15 of the 1980s (peak 1 17 weeks), Scrobulate 30 of latin, US Billboard 46 - Mar 1990 (12 weeks), POP 56 of 1990, France (InfoDisc) 64 of the 1980s (peak 1, 32 weeks, 1,735k sales estimated, 1989), RYM 188 of 1989 |
| 2 | Wayne Wonder | Lambada | 1991 | Peel list 3 of 1991 |